Aquaworld Cancun PM 2 Tank Reef Dive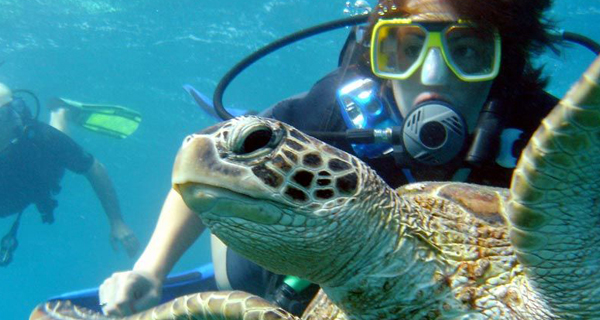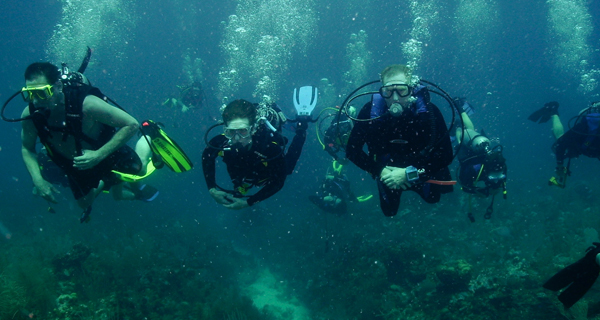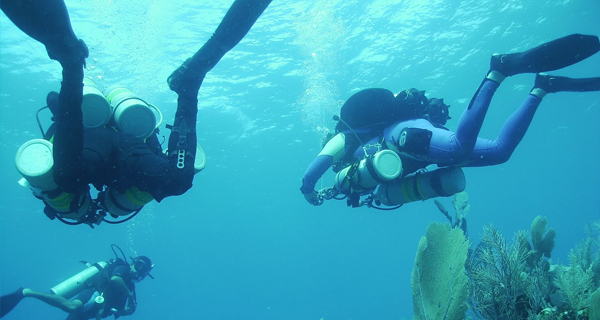 With our Cancun 2-Tank Reef Dive for certified divers we want to make sure that Cancun visitors get to enjoy those natural wonders that are not immediately visible. Let us take you underneath the water surface and see for yourself why divers from all over the world consider the waters off Cancun a true paradise for serious scuba diving. With crystal-clear water and home to the Mayan Reef, which is the second largest barrier reef in the world and the largest in the Western hemisphere, the diving sites around Cancun are hard to beat when it comes to exploring underwater wonders. Our 1pm 2-tank reef dive reaches depths of 30 – 35 feet.
An abundance of aquatic life awaits as you dip into the water with us. Large schools of colorful tropical fish and beautiful corals at the shallow reefs will take your breath away. In fact, almost 100 different species of coral can be found here, along with sea turtles, crocodiles, manatees, and many other marine inhabitants. The Mayan Reef boasts a length of 450 miles with many spots that are perfect for scuba diving! Underwater limestone tunnels have formed over the course of millennia and feature breathtaking underwater architecture. We will make sure that you have plenty of time to get a good look and immerse yourself in these worlds under the sea.
Our afternoon dive tour takes care of all your needs and includes all equipment except wetsuit rental. Let us take you into completely new worlds under the sea. We provide the guides and equipment and the two tanks included in this tour give you plenty of time for exploration. Don't miss out on this great opportunity of extending your Cancun experience to include what is hidden beneath the water surface.
Dive at reefs up to thirty-five feet deep
View an incredible spectrum of tropical fish
Guided by PADI qualified dive masters
Tour Details
What's Included
All dives include equipment, except wetsuit rental
Instructor-supervised reef dive
Tour Notes
Certification card MUST be provided upon check-in
All dives incur a small additional charge for the Federal Marine Park tax and Dock Fees
What To Bring
Underwater camera
Change of clothes
Towels to dry off
---
Tour Price
Cancun Scuba Dive Price Advantage!
Full Equipment
$70
Tanks and Weights
$64
Bubble Watcher
$18
Tour Schedule
Tour Times
---
Tour Duration
4 Hours
---
Tour Available
---
Tour Restrictions
Before you begin any dive with us you must fill out health questionnaire which covers the main illnesses and restrictions that may prevent you from diving. Always consult your doctor before doing any new strenuous activity
---