Cancun Discover Scuba Course
If you'd like to give scuba diving a try while on vacation in Cancun, Isla Mujeres, or Riviera Maya, but have not studied for scuba diving certification, you can try one of our dive-in-a-day discover scuba courses. Our discover scuba programs are perfect for first-time divers. Our easy discover scuba diving program allows vacationers to scuba dive without the need for going throught the full certification process for scuba diving.
Our PADI-endorsed training professionals will make sure that participants will learn everything that they need to know to enjoy a safe and fun-filled excursion scuba diving in open water.
Aquaworld Cancun Discover Scuba Dive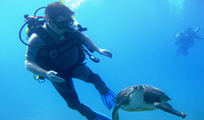 Have you ever dreamed of learning to scuba dive? Envisioned yourself frolicking in pristine tropical waters, drifting past colorful reefs and fish? You don't have to do halfway across the world to do it. Come to Cancun and get your feet wet on our dive-in-a-day resort course.
Cancun Scuba Dive Price Advantage!
Full Equipment
$90
Bubble Watcher
$18
Full Details
Cozumel Daytrip from Cancun with Discover Scuba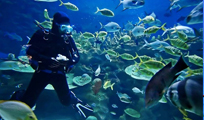 Included in your fantastic daytrip to the gorgeous Island of Cozumel is our Discover Scuba Program. Enter the world of diving with a fabulous beginner's diving course that gives you underwater access to one of the world's most spectacular coral reef systems resplendent with beautiful tropical fish and colorful coral.
Cancun Scuba Dive Price Advantage!
Full Equipment
$240
Full Details