Cozumel Daytrip from Cancun with Discover Scuba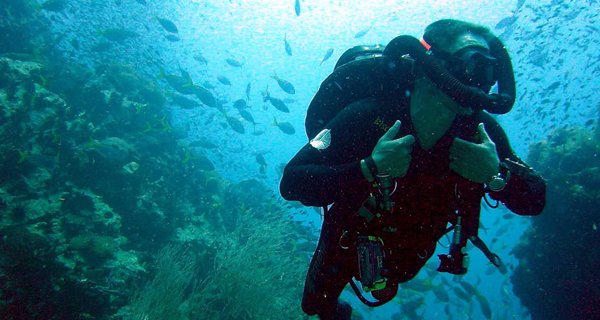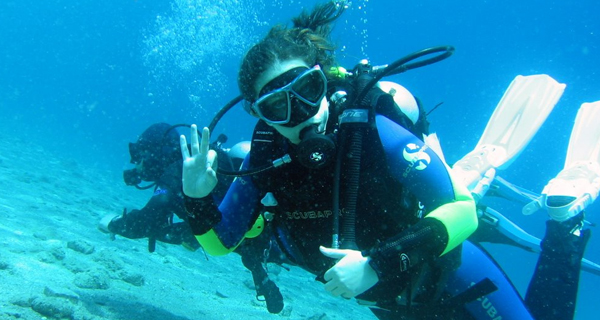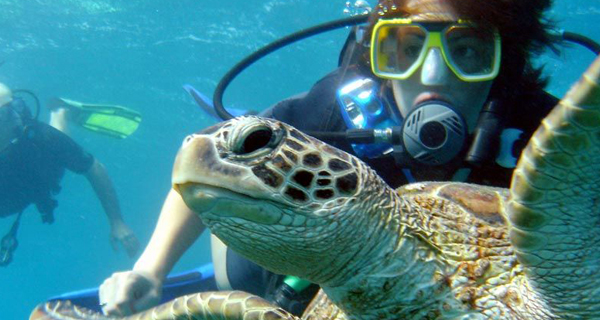 Find out why the Island of Cozumel is such a popular destination for visitors from all over the globe. Cozumel offers vacationers unsurpassed natural beauty; the island is home to gorgeous white-sandy beaches, mysterious jungle interiors, mysterious ancient ruins, and some of the best diving and snorkeling in the world.
On our daytrip to Cozumel from Cancun, we offer a resort scuba diving course for novices. With this beginner's diving course, you will get the chance to explore Cozumel's crystal blue waters even if you don't have your diving certification. Lose yourself amid the beauty of an amazing underwater paradise as you discover the world of scuba diving.
The warm water off the coast of the Yucatan supports the second largest barrier reef in the world where thousands of marine species make their home. Diving around this reef is so spectacular because of the variety of organisms you can see and because of the awesome visibility of Cozumel's clear waters. If you've ever wanted to explore the beauty and complexity of a coral reef, you will definitely fall in love with the underwater world surrounding Cozumel. Catch sight of dazzling angelfish, swaying coral, and multicolored parrotfish as you try to pursue a majestic sea turtle. You will be amazed as schools of fish dart in and out of wonderful coral formations.
The beginner's course is taught by professional PADI-certified divemasters. You will learn the basics of diving from a bilingual instructor and then get to try out the scuba equipment in shallow water. Once you are comfortable with your equipment and prepared to dive, you will get to explore Cozumel's beautiful coral reefs on a 1-tank dive. Your instructor will be there to assist you with your equipment and can point out different marine animals and plants. When you are finished, you can take in the beautiful tropical surroundings of Cozumel.
Add something special to your trip to Cancun and sign up for beginner's diving lessons. With professional and knowledgeable instructors, you will get to experience world-class diving on your first underwater experience.
Deluxe round trip transportation to Playa Del Carmen
Round trip ferry ride to Cozumel
Dive in just one day on this resort scuba course
Learn scuba theory and practice in a pool
Explore a fantastic Cozumel reef
Tour Details
What's Included
Pool training with PADI instructor
All diving equipment
Free underwater photo
Instructor-supervised reef dive
Deluxe round trip transportation from Aquaworld to Playa Del Carmen
Ferry crossing from Playa Del Carmen to Cozumel
Lunch at La Mision restaurant
What To Bring
Sunblock
Sunglasses
Underwater camera
Towels to dry off
Change of clothes
---
Tour Price
Cancun Scuba Dive Price Advantage!
Full Equipment
$240
Tour Schedule
Tour Times
---
Tour Duration
12 Hours
---
Tour Available
---
Tour Restrictions
Before you begin any dive with us you must fill out health questionnaire which covers the main illnesses and restrictions that may prevent you from diving. Always consult your doctor before doing any new strenuous activity
---