Cancun Scuba Diving

Underwater Sculpture Park

No Certification, No Problem

Amazing Reef Diving

Scuba Certification
Enjoy Some of the best diving in Cancun and Isla Mujeres Mexico!
Welcome To Cancun Scuba Dive!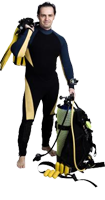 Scuba diving is one of the most popular activities in Cancun. It allows you explore an active and diverse underwater world just off the coast of the Yucatan Peninsula. Welcome to CancunScubaDive.com, a comprehensive website offering you only the best Cancun scuba diving excursions. On your next visit to the sunny peninsular city of Cancun, whether you are coming for a quick one-day visit on a cruise or for an extended stay, take the time to climb on board one of these dive boats to head out to the most teeming areas off the coast of Cancun.
We work with only the most dedicated and acclaimed dive masters in Cancun. Whether you're doing a morning wreck dive or a first-time introductory dive, we are confident that you will have a fun and memorable time during your Cancun scuba diving adventure. Here on our website, we have a variety of scuba diving trips available including both reef and wreck dives as well as morning, afternoon, and sunset dives. If you have never gone scuba diving before or if you have not yet received your scuba diving certification, we also have great introductory "Discover Scuba Diving" courses that are meant to give you a sampling of the world of scuba diving.
We go to only the best destinations off the coast of Cancun including the C-58 Minesweeper shipwreck, the El Tunel reefs, and the Chuchos reefs. We also offer scuba diving excursions in the mysterious cenote caverns trips as well as dive excursions over to the reefs of Cozumel, the island just off the coast of the Yucatan Peninsula.
Our website has a plethora of information regarding scuba diving for you. Take some time exploring the different Cancun scuba diving excursions to find the right one for you. If at any point you have any questions, call our offices directly and speak with one of our helpful and knowledgeable agents.