Aquaworld Cancun Sunset 2 Tank Reef Dive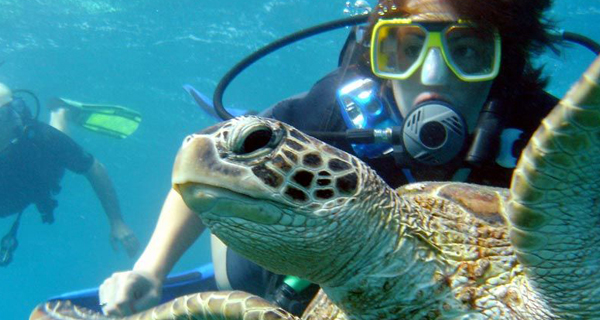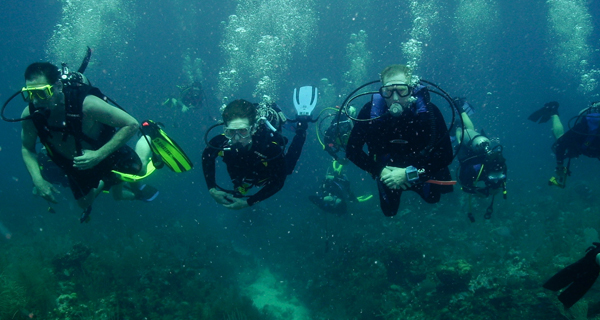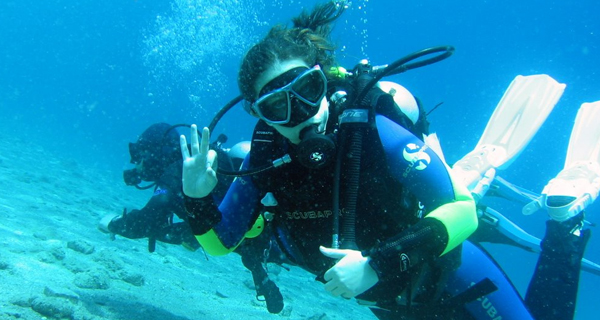 Some of the world's most spectacular diving sites are right between Cancun and Isla Mujeres and that's where we want to take you. We strongly believe that no Cancun vacation is complete without a tour beneath the water surface and a glimpse of the underwater scenery that has been attracting divers from around the globe. Did you know that the barrier reef off the Cancun coast is the second largest in the world? Its shallow location in crystal-clear water makes the so-called Mayan Reef and absolute treasure for beginning and experienced divers alike.
This tour will take certified divers to the best spots along the 450 mile long reef. You will get to swim alongside large schools of colorful tropical fish and other marine creatures, such as turtles, crocodiles, and perhaps even a manatee. This area boasts a variety of scuba diving venues, including the reef itself, ship wrecks, and caverns. Our diving experts know the best spots and will take you there to show you why this area is known as one of the prime scuba diving locations in the world. Hundreds of fish and coral species are at home in the shallow reef and pristine visibility ensures an unforgettable time under the surface.
We provide two tanks and most equipment (excluding wetsuit rental), but first of all we have the expertise that will make this an unforgettable adventure even for the most experienced scuba diver. Our diving locations include sites like El Tùnel, Grampin, Chuchos, Largo, and others, and the diving profile features depth of 50-60 feet. Allow us to be the experts for your Cancun scuba diving outing and we promise that you will not soon forget your time with us!
Dive in crystal clear Caribbean waters up to sixty feet deep
Witness a different variety of underwater denizens after sunset
Supervision by PADI-certified dive-master
Tour Details
What's Included
All diving equipment
Instructor-supervised reef dive
Tour Notes
Certification card MUST be provided upon check-in
All dives incur a small additional charge for the Federal Marine Park tax and Dock Fees
What To Bring
Underwater camera
Change of clothes
Towels to dry off
---
Tour Price
Cancun Scuba Dive Price Advantage!
Full Equipment
$70
Tanks and Weights
$64
Bubble Watcher
$18
Tour Schedule
Tour Times
---
Tour Duration
4 Hours
---
Tour Available
---
Tour Restrictions
Before you begin any dive with us you must fill out health questionnaire which covers the main illnesses and restrictions that may prevent you from diving. Always consult your doctor before doing any new strenuous activity
---