Paradise Snorkeling Cancun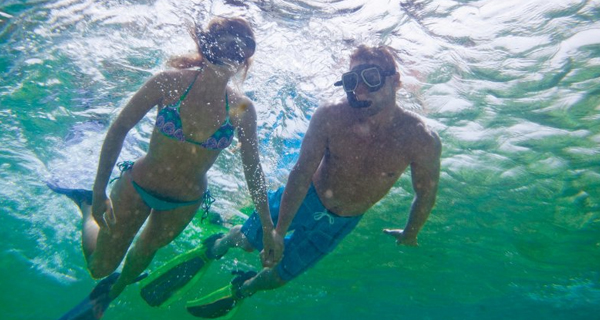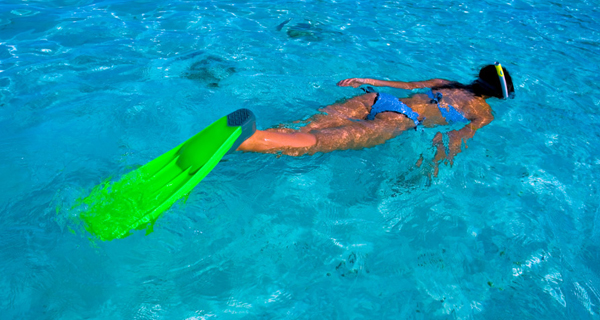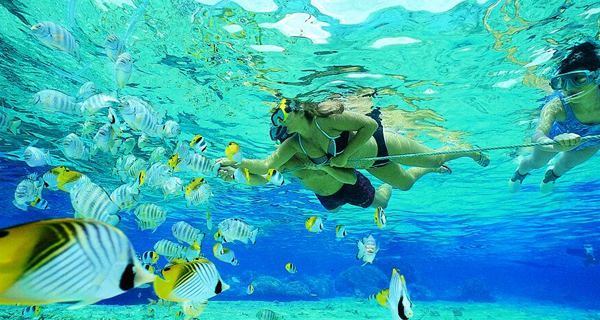 We love snorkeling because it's one of the most fun yet relaxed ways of taking a peek under the water surface. And you will be amazed by what you can find there! The waters off Cancun feature a breathtaking variety of underwater life that you just cannot miss! Join us for a one-of-a-kind snorkeling tour. You don't have to worry about anything. We will take you to the area's best snorkeling sites, provide all the equipment you need, and will give you instructions on technique. All you have to do is to put on the gear and enjoy!
After you boarded our express boat shuttle, we will take you out to our floating platform right above one of the world's most beautiful reef diving site. We provide all equipment and once you are geared up, you are ready to go! Get into the water and float above underwater marine life that will take your breath away. Get close to the greatest variety of colorful fish you could possibly imagine. Be on the lookout for turtles, lemon sharks, and other marine life. Enjoy the warm water and its marvelous visibility for a truly tropical Mexican experience! And when you need a little rest, get back on the platform and enjoy some complimentary refreshments and a cold beer! You even get to keep your snorkeling tube!
We love our paradise under the sea and the good news is that you don't need diving or snorkeling experience to find out why. We will take care of your transportation to the floating platform and our guides will be there to assist you and answer your questions about the reef, snorkeling techniques, and many more. Make sure you don't stop your Cancun vacation at the beach! There is so much more to see and explore and with us, you always have the experts by your side for an unforgettable Mexican snorkeling adventure.
Snorkel above an amazing submerged sculpture garden
Witness a teeming shallow-water coral garden
Beer and other refreshments included
Tour Details
What's Included
Round trip transportation from Aquaworld to the Paradise platform
Unlimited guided snorkel tour
Beer and refreshments aboard the paradise platform
Snorkel equipment
Free Aquaworld snorkel, yours to keep
What To Bring
Underwater camera
Change of clothes
Towels to dry off
---
Tour Price
Cancun Scuba Dive Price Advantage!
Adults
$40
Children
$20
Tour Schedule
Tour Times
---
Tour Duration
6 Hours
---
Tour Available
---
Tour Restrictions
Drinking age is 18 and Up
---